 
Compeed Callos Tratamiento entre dedos
Dressings to place between the toes that help eliminate the calluses and relieve the pain they produce
Security: Web with SSL certificate to guarantee security in all transactions

Shipping: Express delivery with package tracking number

Returns: We accept returns (See section Terms and conditions)
You might also like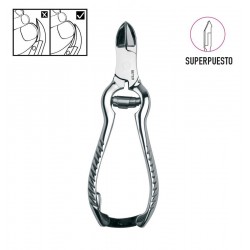 Compeed Callos Treatment between toes dressings act as a second skin, maintaining its natural balance of moisture.
Its double action with hydrocolloid gel and salicylic acid soften the callus while helping to eliminate it.
PROPERTIES
• Instant relief of pain.
• Protects against friction and pressure.
• Help eliminate callus.
• They are discreet and easy to place.
• They remain attached without moving for more than 24 hours.
Each pack includes 6 dressings.
Measure: 2.4 x 2 cm.
HOW TO USE
Clean and dry the skin thoroughly before placing Compeed dressing.
Avoid touching the adhesive part of the dressing so as not to reduce its adhesion.
Place the dressing and hold it in place until it starts to peel off.
Remove the dressing after 48 hours if it has not been detached.