 
Quocin solucion 20 ml
Topical solution to treat calluses, corns or warts in adults and adolescents over 12 years old
Security: Web with SSL certificate to guarantee security in all transactions

Shipping: Express delivery with package tracking number

Returns: We accept returns (See section Terms and conditions)
You might also like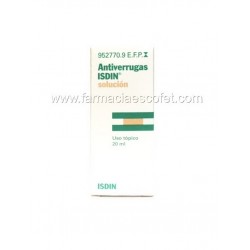 WHAT IS QUOCIN SOLUTION
Quocin is a anti-wart and anti-callus solution.
As active ingredients contains salicylic acid and acetic acid which are two compounds that act to soften and destroy the stratum corneum of the skin.
Quocin is indicated to treat warts, corns or calluses in adults and adolescents over 12 years old.
COMPOSITION
- Active ingredients: Each ml contains 120 mg Quocin salicylic acid and 60 mg of acetic acid.
- Excipients: Collodion (ethyl alcohol, castor oil, ethyl ether, rosin and nitrocellulose).
WARNINGS AND PRECAUTIONS
Check with your doctor before taking this medicine if:
- If you are allergic to the active ingredients of this medicine or any of the other ingredients.
- If there are moles or birthmarks in the application area.
- If you want to treat the wart it is a wart or genital wart hair.
- If you are suffering from a virus infection (chickenpox, herpes).
- If the patient is diabetic.
- If the patient has circulation problems.
- If you are being treated with any other medications.
- If the patient is a child less than 3 years old.
Quocin should not be administered along with other corn remedies or wart in the same area of skin.
Do not use abrasive soaps, exfoliants or products containing alcohol in the same area of skin.
HOW TO USE
- Adults and adolescents from 12 years old: Apply 1 time a day, best before bedtime.
- Children between 3 and 12 years old apply only under medical supervision.
- Children under 3 years not apply.
1 Let water soak in the application area for 3 to 5 minutes.
2nd Rubbing with a lime hardness, callus or wart to remove the remaining product is left of the previous application.
3rd Apply with a spatula a layer of Quocin making sure that it covered the whole area to be treated and without touching the surrounding healthy skin.
4th Cover with a bit of tape and keep it at least 12 hours.
Do not use this medicine on the face, eyes and mucous unless a doctor specifically indicated.
Accidental contact with skin areas unwanted quickly dry the area and rinse with water.
Do not use this medicine in large areas of the skin.
In the case of corns or calluses the total duration of treatment is usually up to 2 weeks.
In the case of these warts disappear completely may take up to 12 weeks.
If after 1 week of treatment the callus, wart or hardness increase in size or if the warts extend consult a doctor to assess or rephrase this treatment.
USE IN PREGNANT WOMEN, THAT POTENTIALLY AFFECTED OR BREASTFEEDING
This population should consult your doctor before starting treatment with Quocin solution.
USE IN ELDERLY
In this population is more frequent occurrence of adverse effects. Use with caution.
CONDITIONS OF CONSERVATION
Quocin Keep container away from heat and fire as it is flammable.
Always keep the container tightly closed jar.
ADVERSE EFFECTS
When adverse effects occur usually due to improper or excessive use of this medicine.
The adverse effects of this medicine occur most frequently in patients with hepatic or renal insuficencia.
If the product comes into contact with healthy skin may appear: skin redness, irritation, swelling, pain and even ulcers may appear.
Even when using the product correctly mild irritation in the area of healthy skin may appear. In this case, treatment should be discontinued until further irritation improves to continue. Should not improve this irritation or aggravation should consult a doctor.
Overdose or accidental ingestion
Overdose is unlikely due to the topical application of this medicine and its poor absorption.
Ingestion may produce symptoms of systemic toxicity salicylates. In that case consult a doctor or call a poison control center: +34 915 62 04 20
HOLDER OF THE MARKETING AUTHORISATION
Isdin, S.A. Provencals, 33
08019 Barcelona
Spain
RESPONSIBLE FOR MANUFACTURING
Recipharm Parets, S.L. Ramon y Cajal 2
08150 Parets del Valles (Barcelona)
Spain