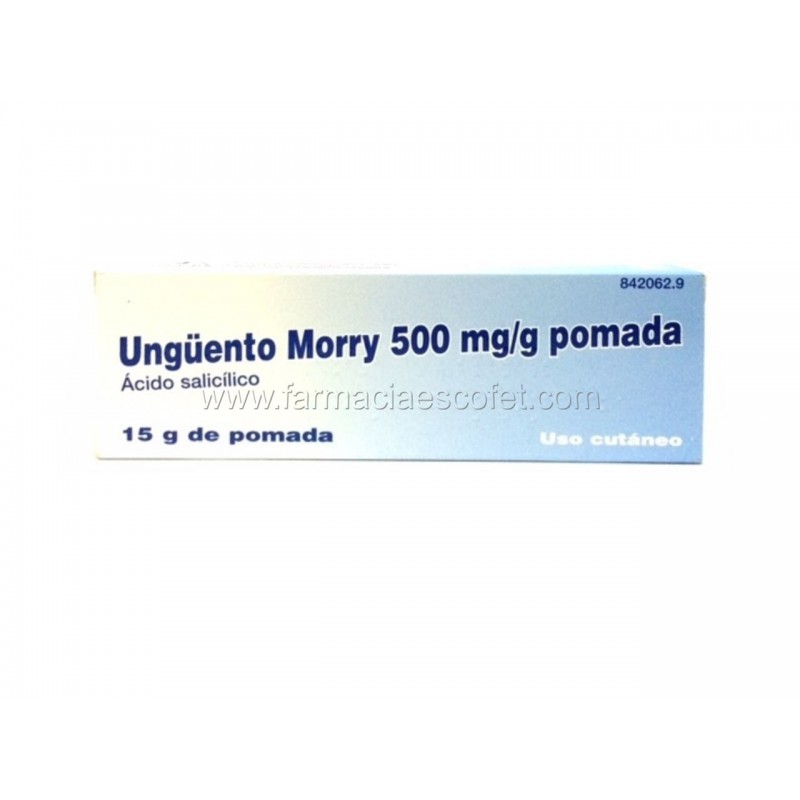  
Unguento Morry 15 g
Ointment indicated to remove calluses, warts, calluses and corns in adults and adolescents over 12 years old
Security: Web with SSL certificate to guarantee security in all transactions
Shipping: Express delivery with package tracking number
Returns: We accept returns (See section Terms and conditions)
WHAT MORRY OINTMENT IS AND WHAT IT IS USED FOR
Morry ointment is a medicine that contains salicylic acid as the active ingredient. Salicylic acid has a keratolytic action (dissolves keratin from the skin) allowing the removal of calluses, crow's eyes, hardness and common warts when applied to the skin.

This medicine is indicated in the treatment of hardness and calluses as well as common warts in adults and children over 12 years of age.

How to use MORRY OINTMENT
Follow these instructions unless your doctor has given you different directions.

Ask your doctor or pharmacist if you have doubts.

Morry ointment is for cutaneous application (exclusively on the skin).

Adults and kids older than 12 years old:
Before applying, wash the affected area with hot soapy water and dry. Subsequently, protect the skin around the callus or wart with petroleum jelly. Apply Morry Ointment to the desired area 2 times a day, at bedtime and upon rising. After each application, it is advisable to cover the area with a hydrophilic gauze or a plaster (it is not advisable to use cotton). Hands should be washed after each application.

Corns usually fall off on their own after 3-6 days. If not, wash the affected area with hot water to facilitate its removal.

Children under 12 years:
Morry Ointment will be used in children under 12 years of age exclusively under medical supervision.

If you use more Morry Ointment than you should:
Due to the mode of application of this preparation, phenomena of intoxication with its cutaneous use are not to be expected.

In case of accidental application to the eyes or mucosa, rinse with plenty of water.
Accidental ingestion may cause nausea, vomiting, stomach pain, confusion, dizziness, headache, tachycardia (increased pulsation), hyperventilation (rapid or deep breathing), and tinnitus (ringing in the ears), in case of accidental ingestion, immediately consult your doctor or pharmacist or call the Toxicological Information Service Telephone 91.562.04.20, indicating the medicine and the amount ingested.