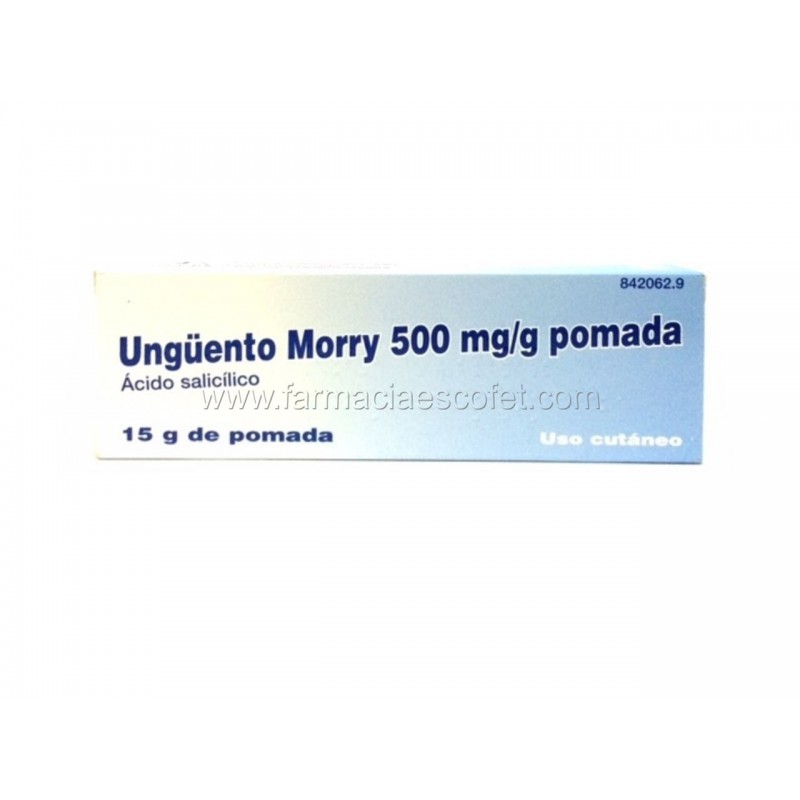  
Unguento Morry 15 g
Ointment indicated to remove calluses, warts, calluses and corns in adults and adolescents over 12 years old
Security: Web with SSL certificate to guarantee security in all transactions
Shipping: Express delivery with package tracking number
Returns: We accept returns (See section Terms and conditions)
WHAT IS UNGUENTO Morry
Morry ointment is an ointment with salicylic acid. This is a compound known as keratolytic destroys skin keratin.
Morry Ointment ointment is used to treat corns, warts, calluses or corns in adults and adolescents over 12 years old.
COMPOSITION
- Active ingredient: Salicylic acid (500 milligrams per gram of ointment).
- Other ingredients: Paraffin and essence of rose geranium.
WARNINGS AND PRECAUTIONS
Check with your doctor before using this medicine if:
- If you are allergic to salicylic acid or any other part of this ointment.
- If the patient is diabetic.
- If the patient has circulation problems.
- If the application area is inflamed, red, irritated, infected or is an area where there are moles.
- If you are being treated with any other medications.
- If the patient is younger than 12 years old or is a pregnant or lactating woman.
Do not use the same application other compounds corn remedies, wart, or other products containing alcohol.
HOW TO USE
- Adults and adolescents from 12 years old: 2 times a day, morning and night.
- Children under 12 years old: Use only under medical supervision.
For proper implementation of Unguento Morry siguietes follow the steps:
1 Wash and dry application area.
2nd Apply petroleum jelly around the wart, callus... to protect healthy skin.
3rd Apply Ointment Morry on the wart, callus... and then cover the area with gauze or bandage.
4th Wash hands after application.
The duration of treatment in the case of corns may be up to 1 week.
In the case of warts treatment it may be prolonged up to 3 months.
If during treatment discomfort increases, calluses, corns, calluses or warts increase or extend warts should stop treatment and consult a doctor.
Avoid contact with Unguento Morry face, eyes, neck, genitals and mucous membranes. Accidental contact with these areas flush the area with water.
PREGNANCY AND LACTATION
Pregnant women who believe they may be, who plan to become pregnant or lactating women should consult their doctor before using this medicine.
ADVERSE EFFECTS
If during this application Unguento Morry come into contact with healthy skin inflammation and irritation may appear. In this case you must stop treatment until irritation or inflammation disappears and then continue with it.
Even when Morry Ointment is applied carefully, ie without this contact the healthy skin, some redness and swelling may occur.
Often the occurrence of allergic skin reactions.
OVERDOSE
Because of the topical application of this preparation is not likely overdose.
Symptoms that may appear in case of accidental ingestion include stomach pain, nausea and vomiting, dizziness, confusion, headache, hyperventilation, tachycardia and tinnitus. In this case contact a doctor or call a poison control center center, TFN: +34 915 62 04 20
CONSERVATION
Once opened the container Unguento Morry the period of validity of this is two months. After this time if you sobrase product shall deposit it in the mailbox Point Sigre of any pharmacy.
HOLDER AND RESPONSIBLE MARKETING AUTHORISATION MANUFACTURING
Teofarma S.R.L. Via F.lli Cervi 8
27010 Valle Salimbene (Pavia) Italy
You might also like