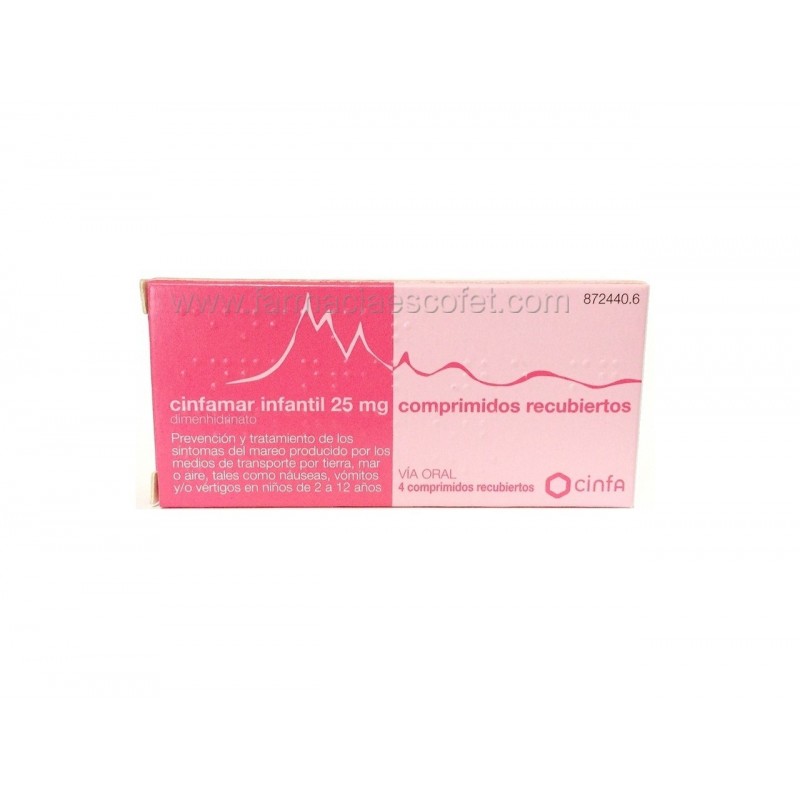  
Cinfamar infantil 4 comprimidos
Indicated in children 2 to 12 years old for the prevention and treatment of symptoms of dizziness caused to travel by land, sea or air, such as nausea and vomiting
Security: Web with SSL certificate to guarantee security in all transactions
Shipping: Express delivery with package tracking number
Returns: We accept returns (See section Terms and conditions)
What is infant cinfamar and what is it used for?
Dimenhydrinate is the active ingredient in this medicine and works against dizziness caused by the means of locomotion.

It is indicated in the prevention and treatment of symptoms of dizziness produced by means of transport by land, sea or air, such as nausea, vomiting and / or dizziness in children from 2 to 12 years old.

How to take cinfamar infant
Always take this medicine exactly as described in this leaflet or as your doctor or pharmacist has told you. If in doubt, ask your doctor or pharmacist.

The recommended dose for children from 7 to 12 years old is 1 or 2 tablets (25 or 50 mg) every 6-8 hours. Do not administer more than 6 tablets daily (150 mg) divided into several doses.

The recommended dose for children from 2 to 6 years old is half a tablet or 1 tablet (12.5 or 25 mg) every 6-8 hours. Do not administer more than 3 tablets daily (75 mg) divided into several doses.

Children under 2 years: should not be used in this population.

Patients with liver disease should consult a doctor before taking this medicine, as the dose may need to be reduced.

Cinfamar for children is administered orally. The first shot should be done at least half an hour before starting the trip (preferably 1-2 hours before), and if you have not taken it before, the first shot will be done when symptoms appear. If dizziness persists, at least 6 hours will be allowed to elapse between one shot and the next.

Cinfamar tablets for children should be taken without chewing, accompanied by a sufficient amount of liquid. It is recommended to ingest the tablets with food, water or milk to minimize gastric irritation.

If symptoms worsen, or if they persist for more than 7 days, you should consult a doctor.

If you take more infant cinfamar than you should
If you have taken cinfamar more than you should, immediately consult your doctor or pharmacist even if you do not have symptoms, as these can often take more than two hours to appear after ingestion of the overdose.
Overdose symptoms mainly include: dilated pupils, flushed face, excitement, hallucinations, confusion, irritation of the stomach and intestine with nausea, vomiting and diarrhea, movement disturbances, seizures, profound state of loss of consciousness (coma), sudden decrease respiratory and heart functions (cardiorespiratory collapse) and death.
In case of overdose or accidental ingestion, immediately go to a medical center or call the Toxicological Information Service (phone: 91.5620420), indicating the medicine and the amount ingested.

If you have any further questions on the use of this medicine, ask your doctor or pharmacist.