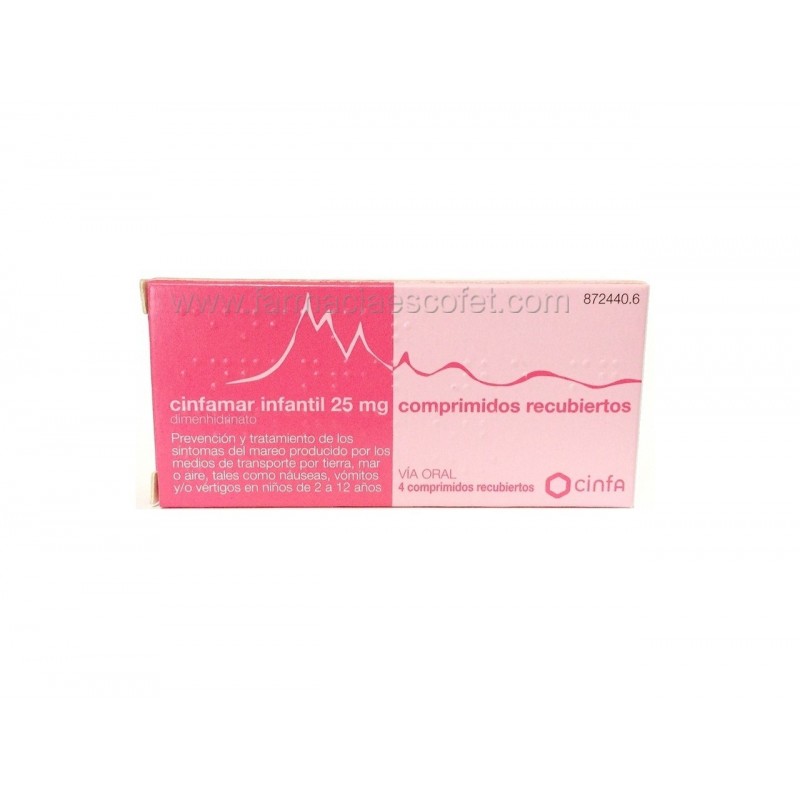  
Cinfamar infantil 4 comprimidos
Indicated in children 2 to 12 years old for the prevention and treatment of symptoms of dizziness caused to travel by land, sea or air, such as nausea and vomiting
Security: Web with SSL certificate to guarantee security in all transactions

Shipping: Express delivery with package tracking number

Returns: We accept returns (See section Terms and conditions)
 1. What is cinfamar child and what it is used
Dimenhydrinate, is the active ingredient of this medicine and acts against nausea produced by the means of locomotion.
It is indicated for the prevention and treatment of symptoms of dizziness caused by transportation by land, sea or air, such as nausea, vomiting and / or dizziness in children 2 to 12 years old.

 2. What you need to know before you start taking child cinfamar
Do not take cinfamar child if:
- If you are allergic (hypersensitive) to dimenhydrinate, diphenhydramine or any of the other ingredients of this medicine (listed in section 6).
- If you have porphyria (rare disorder, usually inherited, in which large amount of porphyrin excreted in feces and urine).
- If you have asthma attacks.
Warnings and Precautions
Consult your doctor or pharmacist before you start taking cinfamar Children In particular, ask if you have or have previously had any of the following circumstances:
- If you have asthma, severe respiratory diseases (chronic obstructive pulmonary disease, emphysema, chronic bronchitis), as can produce a thickening of the secretions which can alter the expectoration.
- If you have a disease in which an abnormal increase in activity of the thyroid gland (hyperthyroidism), increased intraocular pressure (glaucoma) occurs, presents an enlarged prostate (prostatic hypertrophy), hypertension or any disease that causes obstruction urinary tract or gastrointestinal tract.
- If you suffer from crises that appear convulsive movements, with or without loss of consciousness (epilepsy).
- If you are over 65 years old: dry mouth, urinary retention, nausea, sedation, confusion and lowering the pressure (hypotension) may occur.
- If you are using a medicine that causes toxicity in the ear as it may be masked symptoms of these toxic effects, such as ringing in the ears, dizziness or vertigo.
- If you have liver disease or kidney disorder, stomach ulcer or duodenal ulcer or stomach inflammation (gastritis) should consult their doctor before taking this medicine.
- If you suspect you may have appendicitis symptoms such as nausea, vomiting or abdominal cramping, you should go to a doctor for it can rule out the presence or absence of appendicitis, as dimenhydrinate may hinder the diagnosis of this disease.
It is recommended to avoid exposure to very high temperatures and adequate dietary follow hygienic measures such as adequate ventilation and hydration.
You should consult your doctor before taking this medicine if you have or have had heart diseases or disorders (cardiac arrhythmia, myocardial ischemia, etc.).
Avoid exposure to sunlight (even when cloudy), and sunlamps (U.V.A. rays) while taking this medicine.
Interference with diagnostic tests
If you are having any tests of allergy, including skin tests (skin), it is recommended to discontinue treatment 72 hours before the test to avoid altering the results of it.
Children and adolescents
This medicine should not be given to children under 2 years old.
Taking other medicines with child cinfamar
Tell your doctor or pharmacist if you are taking, you have recently taken or might take any other medicines.
In particular, you should tell if you are using any of the following medications because it may be necessary to modify the dose or even child cinfamar not take:
- Anesthetics and other substances with depressant action of the Central Nervous System.
- Antibiotics aminoglycoside group.
- Antidepressants such as monoamine oxidase (MAO) inhibitors.
- Anti-Parkinson.
- Neuroleptics (used to calm agitation and hyperactivity neuro-muscular).
- Ototoxic medicines (which can affect the ear) (see section Precautions).
- Medicines that may cause photosensitivity (skin reactions due to sensitivity to sunlight).
Taking cinfamar child with food, drink and alcohol
Alcohol consumption is not recommended during the time you are taking this medicine. It is recommended to take this medicine with food or milk.
Pregnancy, lactation and fertility
If you are pregnant or breast-feeding, you think you may be pregnant or planning to become pregnant, ask your doctor or pharmacist before using this medicine.
Medicine use during pregnancy can be dangerous for the embryo or fetus and should be monitored by your doctor.
Women who are breastfeeding should not take this medication without consulting your doctor or pharmacist, because this medication passes into breast milk.
Driving and using machines
Do not drive or operate machinery because this medicine causes sleepiness or decreased responsiveness to the recommended doses.

 3. How to take child cinfamar
Follow exactly the instructions of medicine administration in this leaflet or as your doctor or pharmacist. If in doubt, ask your doctor or pharmacist.
The recommended dose for children 7 to 12 years old dose is 1 or 2 tablets (25 or 50 mg) every 6-8 hours. Do not administer more than 6 tablets daily (150 mg) in divided doses.
The recommended dose for children 2 to 6 years old dose is half a tablet or 1 tablet (12.5 or 25 mg) every 6-8 hours. Do not administer more than 3 tablets daily (75 mg) in divided doses.
Children under 2 years old should not be used in this population.
Patients with liver disease should consult a physician before taking this medication because it may be necessary to reduce the dose.
cinfamar child is administered orally. The first takes at least half an hour should be done before starting the trip (preferably 1-2 hours before), and should not have taken before the first shot is performed when symptoms appear. If dizziness persists, it will pass at least 6 hours between feedings and the next.
Children cinfamar tablets should be taken without chewing, accompanied by a sufficient amount of liquid. It is recommended to take the tablets with food, water or milk to minimize gastric irritation.
If symptoms worsen or if they persist more than 7 days, consult your doctor.
If you take more than you should cinfamar child
If you have taken cinfamar child more than you should, ask your doctor or pharmacist immediately even if no symptoms, because often they may be delayed more than two hours after ingestion of the overdose.
Symptoms of overdose mainly include: dilated pupils, flushed face, excitation, hallucinations, confusion, irritation of the stomach and intestines with nausea, vomiting and diarrhea, abnormal movement, convulsions, deep state of unconsciousness (coma), sudden decrease respiratory and heart functions (cardiorespiratory collapse) and death.
In case of overdose or accidental ingestion, immediately seek medical center or call the poison control center (phone: +34 915 620 420), indicating the medicine and the amount taken.
If you have any further questions on the use of this medicine, ask your doctor or pharmacist.

 4. Possible side effects
Like all medicines, cinfamar child can cause side effects, although not everybody gets them. Adverse effects are usually mild and transient, especially at the beginning of treatment.
During the period of use of this medicine have been observed following adverse reactions whose frequency has not been able to establish exactly:
- Nausea, vomiting, constipation, diarrhea, stomach pain; Lack of appetite and dry mouth; Sleep and sedation (sleepiness); Headache, vertigo and dizziness; Increased viscosity of mucus in the bronchi, making breathing difficult; Urinary retention and sexual impotence; Glaucoma (increased intraocular pressure of the eye); Dilated pupils, blurred or double vision; allergic skin reactions and sensitivity to sunlight after intense exposure, hives, itching and reddening of the skin may appear; Decrease in blood red blood cell number, white blood cells, and platelets; Porphyria (rare disorder, usually inherited, in which large amount of porphyrin excreted in faeces and urine); Hypertension or hypotension (increase or decrease in blood pressure); Tachycardia, palpitations and / or cardiac arrhythmias; Hyperexcitability.

 5. Conservation child cinfamar
Keep out of the sight and reach of children. It does not require any special storage conditions.
Do not use this medicine after the expiry date on the carton after EXP. The expiry date is the last day of that month.
Medicines should not be disposed of via wastewater or household waste. Place containers and medicines no longer required in Point SIGRE pharmacy. If in doubt, ask your pharmacist how to dispose of medicines no longer required. This way you will help to protect the environment.

 6. Contents of the pack and other information
Composition of child cinfamar
- Each tablet contains 25 milligrams of dimenhydrinate as active ingredient.
- The other ingredients (excipients) are: hydrogen phosphate dihydrate calcium, corn starch, colloidal anhydrous silica, microcrystalline cellulose, povidone, talc, magnesium stearate, Opadry OY-1141 (hypromellose, titanium dioxide, erythrosin, indigotin oxide -hidróxido iron, macrogol 400), macrogol 6000.
Authorization holder responsible for marketing and manufacturing:
Cinfa Laboratories, S.A.
C / Olaz-Chipi, 10 - Industrial Estate Areta.
31620 Huarte - Pamplona (Navarra). Spain.

Source: Spanish Agency for Medicines and Health Products
You might also like