 
Utabon pulverización nasal con bomba dosificadora
Spray to relieve nasal congestion in flus, colds, rhinitis or sinusitis.
It includes dosing pump for ease use
Security: Web with SSL certificate to guarantee security in all transactions
Shipping: Express delivery with package tracking number
Returns: We accept returns (See section Terms and conditions)
What Utabon is and what it is used for
This medicine belongs to the group of medicines called sympathomimetics. It is a nasal decongestant medication that contains oxymetazoline as the active ingredient. Oxymetazoline administered through the nose causes constriction of blood vessels locally, decongesting the nasal mucosa.

It is indicated for the local and temporary relief of nasal congestion in adults and children from 6 years.

You should see a doctor if it worsens or does not improve after 3 days of treatment.

How to use Utabon
Always take this medicine exactly as described in this leaflet or as your doctor or pharmacist has told you. If in doubt, ask your doctor or pharmacist.

The normal dose is:
Adults and children over 6 years: one application in each nostril, once a day. If necessary, another application can be made every 12 hours. Do not use more than 2 times in 24 hours.

Use in children
This medication should not be used in children younger than 6 years.
Children may be especially prone to the side effects of this medicine.

Over 65 years
Consult your doctor or pharmacist as older people are more sensitive to the side effects of this medicine.

How to use
This medicine is used nasal.

Instructions for the correct administration of the medicine
Before the first use, press the dispenser several times, directing it towards a safe place, until the first spraying occurs.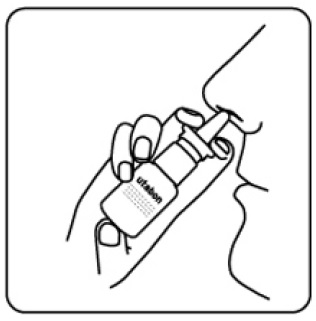 Before applying this medicine, you must remove the existing nasal fluids, blowing your nose well.
To avoid infection, after each use and before closing the container, the end of the applicator should be wiped with a clean, damp cloth. In addition, each container must be used only by one person.
If it worsens or does not improve after 3 days of treatment, stop the treatment and consult your doctor.

If you use more Utabon than you should
By applying excessive or very continuous doses you may notice: headache, tremors, insomnia, excessive sweating, palpitations, tachycardia, increased blood pressure or sleep disturbances.
In case of overdose or accidental ingestion, immediately consult your doctor or pharmacist, or call the Toxicology Information Service, telephone 915 620 420, indicating the medicine and the amount ingested.