 
Biberón NUK vidrio Látex 240ml 0-6 meses
Glass baby bottle with wide neck to make it easier to fill and clean.
With anatomical and latex First Choice teat.
(Random color)
Security: Web with SSL certificate to guarantee security in all transactions

Shipping: Express delivery with package tracking number

Returns: We accept returns (See section Terms and conditions)
You might also like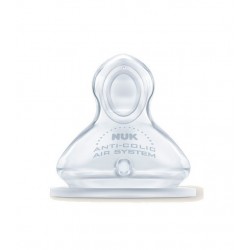 Hygienic glass baby bottle, slightly curved to be easy to hold and wide base that provides stability.
Includes threaded ring, locking disc and protective cap.
It includes a First Choice teat of anatomically shaped latex that mimics the mother's nipple.
It adapts perfectly to the palate of babies between 0 and 6 months and offers an extra wide lip support.
Includes anti-collision ventilation system NUK ANTI-COLIC AIR SYSTEM.
Hole of the teat: Medium (for milk).
Bottle Material: Glass.
Clinically tested bottle.
No odor, no harmful substances, no BPA.