 
Varisan gel toe separator 2 pcs
Separators to align the toes and relieve calluses, hardness and helomas between the toes
Security: Web with SSL certificate to guarantee security in all transactions

Shipping: Express delivery with package tracking number

Returns: We accept returns (See section Terms and conditions)
Varisan Hydrogel gel toe separators are recommended for:
- alignment of the toes, toes mounted.
- eases corns or hardnesses and interdigital helomas.
Each box contains 1 pair of separators.
Composition: 100% polymer gel.
Mode of use
Place a separator between the toes to be protected.
After use they should be washed with cold water. Once dry it should be sprinkled with talcum powder.
Sizes
- Size S: 28mm x 18mm approx.
- Size M: 33mm x 19mm approx.
You might also like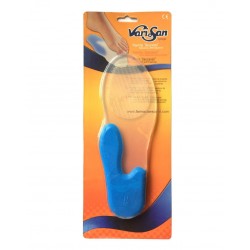 Regular price
€18.00
-20%