 
Hallux valgus protector with toe separator
Protector to relieve the pain in the Hallux valgus that also provides correct alignment of the toes
Security: Web with SSL certificate to guarantee security in all transactions

Shipping: Express delivery with package tracking number

Returns: We accept returns (See section Terms and conditions)
The Hallux valgus protector with reel toe separator is made of 100% polymer gel.
It is recommended to avoid pressure in the Hallux valgus while facilitating the proper alignment of toes, mounted toes.
Avoid the pain caused by friction with shoes.
Each box contains 1 Hallux valgus protector with Varisan Hydrogel reel separator.
Mode of use
Place the protector by inserting the big toe between the protector and the toe separator.
After use the protector should be washed with cold water.
Once dry it should be sprinkled with talcum powder.
Sizes
- Size S: 30mm x 14mm
- Size L: 35mm x 18mm
You might also like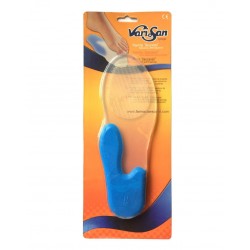 Regular price
€18.00
-20%