 
Neuralex 60 cápsulas
Food supplement based on Omega-3 fatty acids for proper functioning of the brain
Security: Web with SSL certificate to guarantee security in all transactions

Shipping: Express delivery with package tracking number

Returns: We accept returns (See section Terms and conditions)
You might also like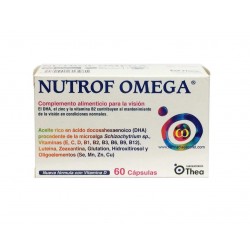 Regular price
€23.45
-11%
Cognitive function is affected by certain factors such as stress, emotions or inadequate nutrition with a lack of specific nutrients.
It is also proven that this cognitive function begins to deteriorate naturally after 50 years of age.
It is advisable to maintain a healthy lifestyle with physical exercise and memory exercises.
Maintaining a balanced diet with foods rich in Omega-3 fatty acids and B vitamins helps maintain a normal psychological function.
Neuralex is a dietary supplement in soft gelatin capsules containing DHA (Omega-3 fatty acids) and B vitamins.
DHA promotes neuronal communication and folic acid and vitamins B6 and B12 protect the brain from alterations in cognitive function.
Sugar free.
Gluten free.
NUTRITIONAL INFORMATION PER DAILY DOSE (2 capsules)
- Folic acid 200 ?g
- Vitamin B12 2.5 ?g
- Vitamin B6 1.4 ?g
- DHA 900 mg
- EPA 180 mg
HOW TO USE
Take 2 capsules a day, preferably 1 capsule after breakfast and another after dinner.