 
LetiAT4 gel de baño 200ml
Bath gel for atopic, dry or sensitive skin. Ideal for children's hygiene
Security: Web with SSL certificate to guarantee security in all transactions
Shipping: Express delivery with package tracking number
Returns: We accept returns (See section Terms and conditions)
LetiAT4 gel de bano dermograso is a bath gel statically developed for the atopic, dry or sensitive skin of the baby, child or adult.
It has been tested dermatologically and pediatric on atopic skin.
PROPERTIES OF LETIAT4 GEL DE BANO
- Soft gel: Its wash base is extra-soft and clean without irritating.
- Moisturizes the skin: Contains fatliquoring agents.
- Contains Polidocanol that relieves itch caused by dry skin.
- Contains Prebiotics that favors the balance of the microflora of the skin reducing the risk of superinfection.
USEFUL ADVICE
In the case of atopic skins, it is preferable to bathe in the shower.
Use lukewarm water (<33 ° C).
Avoid using bath sponges or mitts.
The duration of the bath should not be longer than 10 minutes.
Dry the skin gently without rubbing it with the towel.
You might also like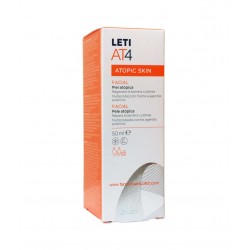 Regular price
€11.98
-10%