 
Plantillas Scholl GelActiv Profesional
Shoe insoles developed to absorb impacts and reduce excessive pressure on the feet due to standing for long periods of time
Security: Web with SSL certificate to guarantee security in all transactions
Shipping: Express delivery with package tracking number
Returns: We accept returns (See section Terms and conditions)
Scholl GelActiv Professional insoles absorb impacts and provide cushioning and comfort throughout the day.
Recommended for people:
- who walk a lot.
- who remain standing for a long time.
- which due to the conditions of work put under their feet a high weight.
They are made of breathable fabric to help keep your feet dry.
The Scholl GelActiv Professional insoles are valid for:
- professional footwear.
- daily footwear.
- sneakers.
Available Sizes:
- Woman: 35.5-40.5
- Man: 40-46.5
Each package includes a couple of shoe insoles.
HOW TO USE
If necessary, the insoles should be cut to fit the size or shape of the footwear.
They include guides with different foot sizes to facilitate the trimming.
The insoles must be placed with the gel face down.
It is recommended to change the insoles when they show signs of wear, usually at 6 months.
Clean with a hot cloth moistened with soap (do not get wet).
You might also like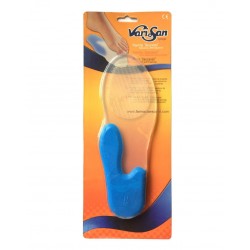 Regular price
€18.00
-20%