 
Plantillas GelActiv Zapatos planos
Gel insoles that provide extra comfort for flat shoes
Security: Web with SSL certificate to guarantee security in all transactions
Shipping: Express delivery with package tracking number
Returns: We accept returns (See section Terms and conditions)
GelActiv flat shoes cushion and absorb the impact under the heel in flat shoes.
Maintain a feeling of lightness in the feet throughout the day.
Do not squeeze fingers.
Remain in place without moving because they have a design with small grains that prevent slipping.
These insoles fit all shoes without cutting them.
One size: insoles valid for sizes between 35 and 40.5.
Each package includes a couple of insoles.
HOW TO USE
The inside of the shoe should be clean and dry.
Remove the plastic sheet.
Place each insole in its corresponding shoe (left (L) or right (R)) with the adhesive side facing down.
Should place the insole so that the raised part of it establishes contact with the arch of the foot.
It is recommended to change insoles every 6 months or if signs of wear appear.
You might also like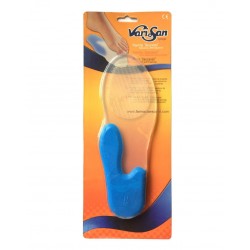 Regular price
€18.00
-20%