 
Almohadilla Plantar Farmalastic (1 par)
Pads for the relief of pain due to natural plantar pad wear or due to hardness
Security: Web with SSL certificate to guarantee security in all transactions

Shipping: Express delivery with package tracking number

Returns: We accept returns (See section Terms and conditions)
You might also like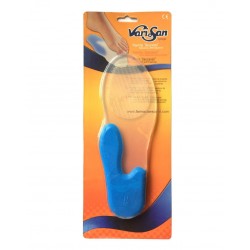 Regular price
€18.00
-20%
Reviews
Farmalastic foot pads have been developed with podiatrists.
They consist of a 2.2mm thick gel module that replaces the worn natural plantar pad relieving pain.
They distribute the weight of the body over the entire support zone.
Farmalastic foot pads are made of an ultra-soft elastic fabric that fits perfectly to the anatomy of the foot.
Indications:
Prevents and relieves plantar metatarsalgia of the forefoot due to wear or hardness.
It also relieves the sensation of overheating of the sole of the foot.
Composition:
- Silicone 80%.
- Polyamide/Elastane 20%.
Available Sizes:
- Size S: 36-38 foot size.
- Size M: 39-41 foot size.
Each package includes a couple of pads + 1 wash bag.
How to use:
Slip the foot into the pad by placing the band between thumb and forefinger.
The use of socks is recommended.