 
Taloneras de silicona Comforsil Talla M
Silicone heels with removable hole to relieve the pressure and pain produced by the spur of the calcaneus bone of the heel
Security: Web with SSL certificate to guarantee security in all transactions
Shipping: Express delivery with package tracking number
Returns: We accept returns (See section Terms and conditions)
Comforsil silicone heels from Prim Laboratories are indicated on spurs that produce pain (calcaneal spur).
The high-viscosity silicone cushions the loading points by displacing the pressure from the sore area.
They incorporate a movable orifice to make still more effective the discharge of the pressure on the heel.
Size M: 38-40 of foot size.
Each package includes a couple of silicone heels.
HOW TO USE
Wash and apply talcum powder.
You might also like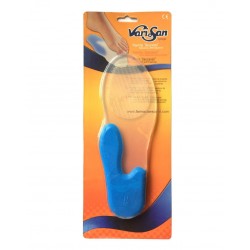 Regular price
€18.00
-20%